Company Profile
Jiangsu Jianghao Generator co., LTD. Is the domestic first-class diesel generator set production manufacturers.Company's total assets has reached RMB 80 million . The modern standard factory building has 16000 square meters, nearly 150 employees, annual production of diesel generator set is 3000 sets.Company has a modern low noise diesel generator sets test center, guaranteed more than 10 years of customer product use for parts library and a sound service center.
The main products of Jianghao power are ordinary type, automatic type, type multicomputer interconnection,silent, mobile power station, unattended, the centralized computer remote monitoring and so on ,seven big class diesel generator sets.Power parts are according to the needs of customers,chose from domestic and imported engine, with high quality full copper alternator, provide the most professional power solutions.Power distribution for stationary diesel generators is 3-3000kw, mobile power station for 24-300 kw.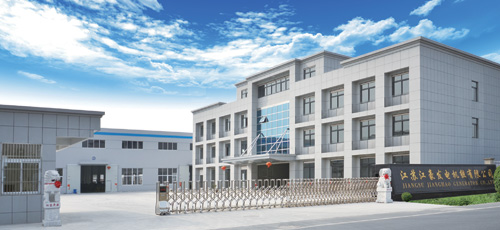 Over the years, we always adhere to high standards and strict product quality, according to the price of survival, quality development enterprise principle, heavy contract, keep promise, honest, combined with advanced technology and test method, refinement and good quality, Win a lot of regular customers, Jianghao diesel generator set is widely used in communications, factories ,mines, ports, highways, ships, railways, airports, power plants, hotels, forces and other places, it is an ideal emergency power supply equipment, won the trust and support from all over the world, The quality management office of Jiangsu province, Technical supervision of Jiangsu province, spot check quality, measurement trustworthy unit for many times, And through the AA qualification enterprises, ISO9001-2008 certification enterprises.
Jiangha will be committed to the future, to temper themselves in the market of the melting pot, practical factory, keep improving the quality, the good faith development, with the social from all walks of life support and help, strive for greater glory.At the same time, we solemnly promise: we will not let any unqualified products go out of our factory, promise not to let any one customer impaired, strictly abide by the contract, regular and irregular, combining to use cargo units to check the product status, timely maintenance, within the time limit prescribed by the contract, on call, Namely to repair, to ensure that our company produces the diesel generator set work normal, normal operation, ensure that users use at ease.