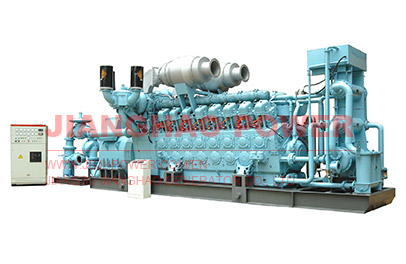 Jiangsu Jianghao Generator Co.,Ltd produces gas generator. Gas generator is a kind of liquefied petroleum gas, natural gas and other combustible gases as combustion, instead of gasoline, diesel as power, it is the new, highly efficient, new energy generators. Gas generator has a wide range of output power, reliable turning up and running, good quality of alternator, light weight, small size, easy maintenance, low-frequency noise, etc., usually they have the following four advantages:
1.A good quality of alternator,when alternator working,it is just doing rotational motion,so it has a quick reaction of power transfer,working smoothly,high precision voltage and frequency of output,
small fluctuations, if minus or increases 50% and 75% load, the diesel generator accumulation of small camel line is very stable,it is superior than electrical performance of diesel generator .
2.Good starting performance, start success rate
It is only 30 seconds from cold start after the success of full load,but according to the international regulations,after three minutes diesel alternator starts successfully,it can with a load . Gas generator can guarantee the success rate of start under any ambient temperature and climate.
3. Low noise, small vibration.
As the gas turbine rotating at high speed, its vibration is very small, and the low-frequency noise than diesel generators.
4., Adopted gas is clean, cheap energy
Such as: methane gas, straw gas, biogas, etc., to use them as fuel,not only reliable, low cost, but also can change waste into treasure, and it does not produce pollution.
①The above generators can be used natural gas, oil filed gas, bio-gas, straw gas, coal gas and other gases as fuel.
②standard 1500RPM, 50HZ, 230 / 400V, power factor 0.8, three-phase four-wires system. 60HZ and other speed generators can be customized.
③alternators can be choosed according to customer needs, such as Wuxi Stamford, Shanghai Marathon, Shanghai Hengsheng ,Guangzhou England, and other famous brands.
④The parameter list is just for reference only, subject to change without notice.