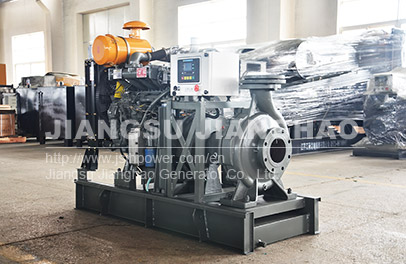 Jianghao Diesel Pump Sets are produced according "Fire pump performance requirements and test methods " which meet latest standard GB6245-2006,Diesel Pump Sets are high lift and big flow,which suitable for Warehouse,Wharf,Airport,Oil filed,Power Plant,Liquefied Gas Station,Garment Factory etc.The big advantage is when the Main power is off,Electric Pump can not start,Diesel Pump can be started and supply water.
Jianghao Diesel Pump Sets are assembled by Diesel Engine and Multi-stage fire pump,Pump are horizontal type,Single suction,single-stage centrifugal pump,they have advantages of high efficiency,extensive functions,safety and stable,low noise,long life time,easy install and maintenance,they can supply water or other liquid like water in physicochemical property,and they can be changed the material in the pump,sealing type and add cooling system to supply hot water,oil,caustic or impure liquid.
1.Altitude: ≤2500 M
2.Temperature:-25~55℃
3.Humidity:9~95%
4.Seismic intensity:Class 7
5.Flow range:50-700(L/S)
6.Life Range:32-600m
7.Power range of Engine:18-1100KW
8.Material of flow passage components: Cast Iron,Nodular Cast Iron,Stainless Steel,Cast Copper.
9.Engine Brand:Shangchai,Dongfeng,Cummins,Deutz,Iveco,Wudong,Weichai etc.
Main Features of Diesel Pump Set:
1.Auto Start:Diesel Pump Set can be started within 5s and run 100% loading after getting the signals of Fir Alarm/Pipe Pressure/Power off or others.
2.Auto Charge:Batteries can use the City Power or Engine starter to charge itself automatically,to guarantee the start of diesel pump set.
3.Auto Alarm:Alarm and protect against from engine low oil pressure,high water temperature,and stop the pump set when over speed.
4.Auto Preheat:Keep the engine on standby mode for emergency using.
5.Direct Connect:Diesel Pump Set which below 360kw use the technology of direct connect to connect the engine and pump via elastic coupling,reduce the problem points,and short the start time,plus the emergency performance and reliability.
6.Customers can ask for other alarm output(None-Standard).
7.Functions of Remote monitor,Remote communicate,Remote control(None-Standard).